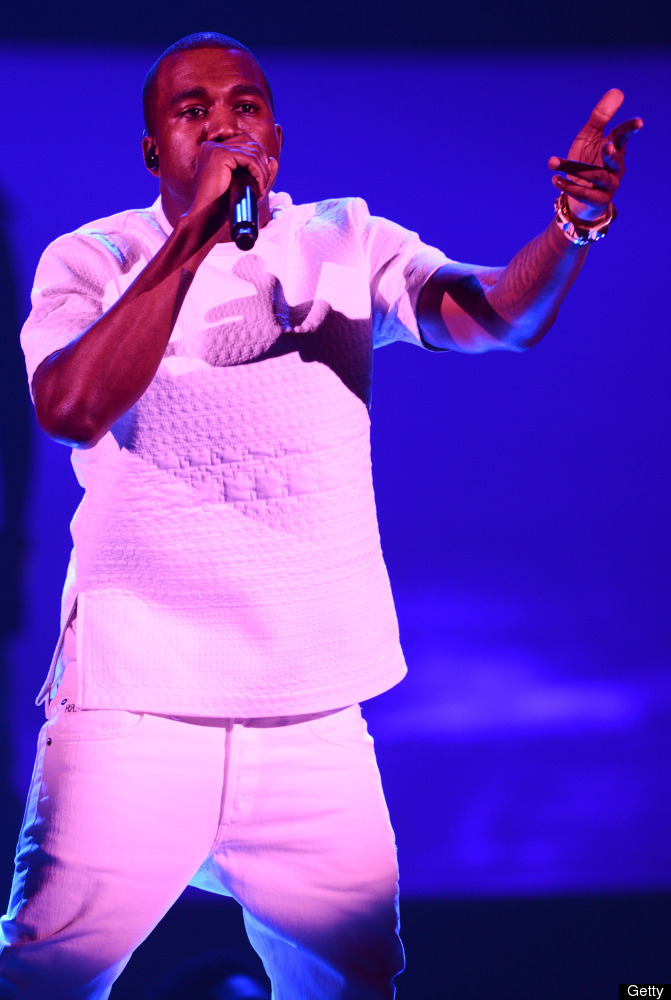 Jay-Z, Kanye West and Beyonce dominate the categories, D' Angelo makes a comeback and a very touching Whitney Houston tribute.
This year's
BET Awards
kicked off with G.O.O.D Music; Big Sean and 2 Chainz rapping to "Lamborghini Murci."
Kanye West made a surprise appearance at the end singing "Theraflu" which name dropped his boo.
He then killed a long freestyle after the music went off, dropped the mic and left the stage.
Click Here to see the Red Carpet Looks
"Negroes in Paris" flashed across the screen as host Samuel L. Jackson and Spike Lee came out, both busting out their own versus as a spoof to Jay-Z and Kanye's "Ni**as in Paris."
Samuel and Spike used "I Get Paid" as their hook and came out as the new Jay and Kanye to get the crowd hyped.
After the performances, they presented "Best Group" with The Throne winning.
Jay came out on stage behind Kanye and surprised him while he was accepting the award. He explained later on that he got caught up in L.A. traffic and missed Kanye's performance.
During their 'thank you' speech, Kanye shouted out Maybach music and Young Money for giving them good competition for the fans.
Both Beyonce and Kim Kardashian were front and center in the audience right next to their men. The camera loved showing them throughout the show as Beyonce was shown numerous times bouncing her head to some of the performances.
Beyonce won 'Best Female R&B Artist' and 'Video Director of the Year' for her video "Party."
Related Post: Kim Kardashian Makes an Appearance at the BET Awards with Kanye West
One thing about these awards shows that annoy me and I'm sure you too, is when the censor has to go in overtime to beep out the curse words. This happened mostly during all the rap performances and some were missed which made the show a bad censored one.
The night also featured tributes to the recently deceased great ones.
AJ, Free, Rocsi, Terrance, Tigga and Donny Simpson paid tribute and saluted Hal Jackson, Dick Clark and Don Cornelious, the men who paved the way for many entertainers.
Chante Moore performed a medley of hits from the late great Donna Summer and
Valerie Simpson sung "Ain't Nothing Like the Real Thing" a tribute to her husband Nick Ashford.
Usher's voice and vocal range was on point as he beautifully sang "Climax" during his performance.
Nicki Minaj performed next and rocked it out and bounced her booty to "Champion" and then "Beez in the Trap" and 2 Chainz came out again to rap his verse. The crowd was feeling the performance and Beyonce was bouncing her head to the beat.
Wale and Miguel beat out all the heavy hitters in the "Best Collaboration" category for their song "Lotus Flower Bomb."
Melanie Fiona performed "Wrong Side of a Love Song" off her new album The MF Life and killed it!
Yolanda Adams, of course, won the 'Best Gospel' category and had a message to everyone in the audience ...
"please use your gift responsibly because our babies are watching."
Message!
D'Angelo made his comeback and returned to the stage! The soul singer brought the funk and started off singing his sexy hit from 2000 "How Does it Feel?"
He had a little James Brown in him. This was D'Angelo's first televised performance in 12 years.
Maze featuring Frankie Beverly received the 'Cadillac Lifetime Achievement' award and Joe, Tyrese and Faith Evans sung and paid tribute to them.
Then, Frankie Beverly took the stage to perform his hit song "Before I Let You Go" after his acceptance speech.
This was his first televised performance ever! Even though his voice is not the same as it was when this song was first released in the seventies, Frankie Beverly had the crowd on their feet singing along.
Other performances of the night included The Maybach Music Group, Cash Out and Tyga.
Mindless Behavior won the "Coca-Cola Viewer's Choice Award" which is their first BET award.
Kerry Washington and Jamie Foxx - who wore a Trayvon Martin shirt in tribute - presented the 'Video of the Year' which included two videos from Beyonce, two from Jay-Z and Kanye and one from Usher.
Jaime looked at Beyonce and Jay-Z in the front row and jokingly said, "Oh it's gonna be an argument in the crib, whose the hottest in the house."
Jay-Z won the battle and as his name was announced, Beyonce and Jay playfully put their fists up at one another. But either way you look at it, they are both taking the award home.
Watch Here: Jay-Z Interrupts Kanye West's Acceptance Speech During BET Awards
Chris Brown took the stage with a lot of effects, strobe lights, ballerina dancers and a half painted chest as he performed his hits "Don't Wake Me Up" and "Turn Up the Music."
Deberah Lee presented civil rights leader Reverand Al Sharpton with this years 'Huminatarian Award.'
"Reverand Sharpton makes the world confront issues that many would like to ignore... he leads the charge and takes the heat," she said.
According to Deberah Lee, President Obama once called Al Sharpton 'a voice for the voiceless.'
Last but not least, an emotional Whitney Houston tribute filled the end of the show with performances by Brandy, Monica, Chaka Khan and Gary and Cissy Houston. Mariah Carey and Whitney's Waiting to Exhale co-stars came out and said a few words about the late great diva.
Related Post: Whitney Houston's Tribute During the BET Awards
What did you think of this year's award show?
Winner's List
***Winners are listed in bold
Best Female R&B Artist
Beyonce
Best Male R&B Artist
Chris Brown
Best Group
The Throne (Jay-Z & Kanye West)
Best Collaboration
Beyonce f/ J. Cole - "Party"
Big Sean f/ Kanye West & Roscoe Dash "Marvin & Chardonnay"
DJ Khaled f/ Drake, Rick Ross & Lil Wayne - "I'm On One"
Drake f/ Lil Wayne & Tyga - "The Motto"
The Throne (Jay-Z & Kanye West) f/ Otis Redding - "Otis"
Wale f/ Miguel - "Lotus Flower Bomb"
Best Male Hip Hop Artist
Drake
Best Female Hip Hop Artist
Nicki Minaj
Video of the Year
The Throne (Jay-Z & Kanye West) - "[Expletive] in Paris"
The Throne (Jay-Z & Kanye West) f/ Otis Redding - "Otis"
Video Director of the Year
Beyonce & Alan Ferguson
Chris Brown & Godfrey Tabarez
Best Gospel
Yolanda Adams
Subway Sportswoman of the Year
Serena Williams
Subway Sportsman of the Year
Kevin Durant
Coca-Cola Viewer's Choice Award
Chris Brown - "Turn Up the Music"
Drake f/ Lil Wayne & Tyga - "The Motto"
Mindless Behavior - "Hello"
The Throne (Jay-Z & Kanye West) f/ Otis Redding - "Otis"
Wale f/ Miguel - "Lotus Flower Bomb"