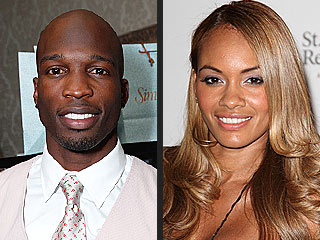 After Chad "Ochocinco" Johnson was charged back in August with head-butting
Basketball Wives
star, Evelyn Lozada, VH1 announced that the former couples reality show
Ev & Ocho
would not air due to the incident.
Viewers were going to get a glimpse inside Evelyn and Chad's relationship which was due to air last month.
The couple is now divorced and trying to move on with their lives but it seems as if fans would still be interested in watching their would-have-been reality show, especially after their recent dispute.
After a fan on Twitter asked Evelyn if the show would ever air, Evelyn responded:
I wonder if VH1 will air the series if Evelyn gives them the green light.
This isn't the first time VH1 has pulled the plug on one of their shows after serious situations occurred involving their cast members.
In 2009, VH1 suspended Megan Wants a Millionaire after reports surfaced that Ryan Jenkins, a cast member on the show, murdered his wife, swimsuit model Jasmine Fiore. Jenkins was a finalist in the series and VH1 pulled the plug on airing the rest of the show.
Jenkins was also on I Love Money 3, where he supposedly won, and VH1 never aired that season due to Jenkins involvement with the murder and his own suicide.