I think everyone needs to chill about the whole Keyshia Cole "dissing" Michelle Williams...
So, Keyshia Cole spoke out about Michelle Williams' Super Bowl performance on Sunday and she wasn't too pleased with it. Michelle along with Kelly Rowland, came out to perform alongside Beyonce as they all reunited as Destiny's Child.
Well, Keyshia wasn't feeling Michelle's contribution to the group and she tweeted to her Twitter followers:
"I think I was frightened to blink for a sec. Then Michell sung and woke my ass up from my daze! She always fuckN the groove up"
Keyshia started receiving harsh criticism from Destiny's Child fans so she then
tweeted out, "But hey! I love y'all too! And y'all girl is WACK and always will be!
#Boss
!!"
Honestly, I love Destiny's Child and loved the fact that they performed together again but I agree with Keyshia. I don't think Keyshia is hating either, she's just simply stating her opinion on HER Twitter page and she had the balls to say what plenty of other people were thinking.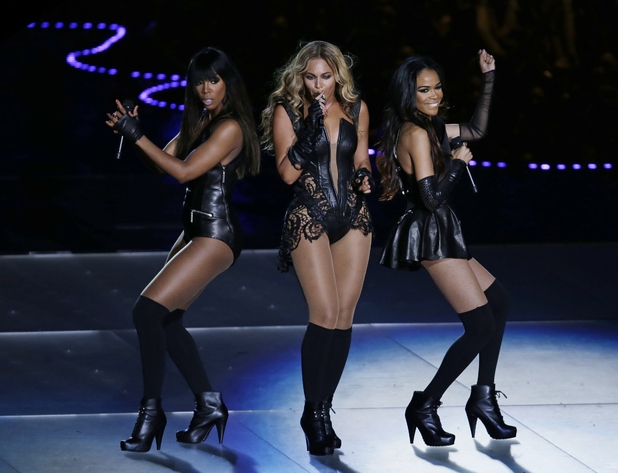 Destiny's Child performing to their hit song "Independent Women" at the 2013 Super Bowl halftime show
When I first watched the ladies perform live, I thought something was wrong with Kelly and Michelle's mics, as I wrote in a previous post, they both were singing lower than Beyonce. Then, I rewatched the performance again and Michelle just stood out to me period, like she just doesn't fit in the group. Especially when the ladies were all dancing and singing to Beyonce's "Single Ladies" song. Beyonce and Kelly killed the moves and Michelle was kind of just stiff and left on the end.
Michelle tweeted about her performance and simply said,

"Had a great time with my sisters tonight! Tried to keep it a surprise!"
Keep up Michelle! Still love ya tho, lol.
W
atch Destiny's Child halftime Super Bowl performance HERE.