Just about a month ago, I finished the erotic romance trilogy of Fifty Shades of Grey ... I know, I know, I'm a couple of years late!
I read the first book in a weekend and then became obsessed with wanting to know 'what happens next!?' ... so of course I finished book two and three. When I heard a film adaptation of Fifty Shades is in the works, I was ecstatic! But, it seems like there is some chemistry trouble between the two lead roles of the movie. (more on that later)
As we know, the role of Christian Grey was supposed to go to Sons of Anarchy actor Charlie Hunnam. But, he
backed out of the project
so the leading role went to Jamie Dornan. The other main character in the book, Anastasia Steele, went to Dakota Johnson.
So, out comes the trailer for the movie with the film set to be released in 2015, in time for Valentine's Day. As soon as I was done watching the trailer - the most watched movie preview of the year - I was sort of disappointed with the casting choice for Christian Grey. In my mind, after reading the trilogy, Jamie Dornan is not the way Christian is supposed to look. I pictured Christian to be hotter and with brownish blonde hair and greyish eyes, like their first choice Charlie Hunnam.
Now, there are rumors saying that Dakota and Jamie were recently spotted back on the set to do reshoots of certain scenes because the two main stars of the film are lacking chemistry!
According to US Weekly, "producers thought the existing footage didn't feel "passionate" and "Dakota isn't coming off sexy enough."
A source tells US Weekly that producers want to do sequels (like the book), "so this has to be perfect."
I just hope the movie lives up to its very hot and sexy S&M trilogy. Get it together, people!
Yes! This is Christian Grey! Unfortunately Charlie Hunnam is not playing the role.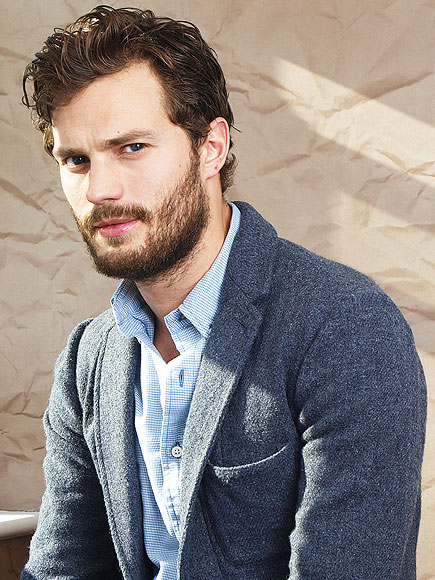 Jamie Dornan is cute and all, but not in a Christian Grey way
Follow Ooooooo La La! on ...
Twitter || #OooLaLaBlog
Instagram || Pinterest || Facebook || Google +
Subscribe to My News Feed