Toya Wright Joins Nivea and The Dream in Not Approving Lil' Wayne and Christina Milian's New "Relationship"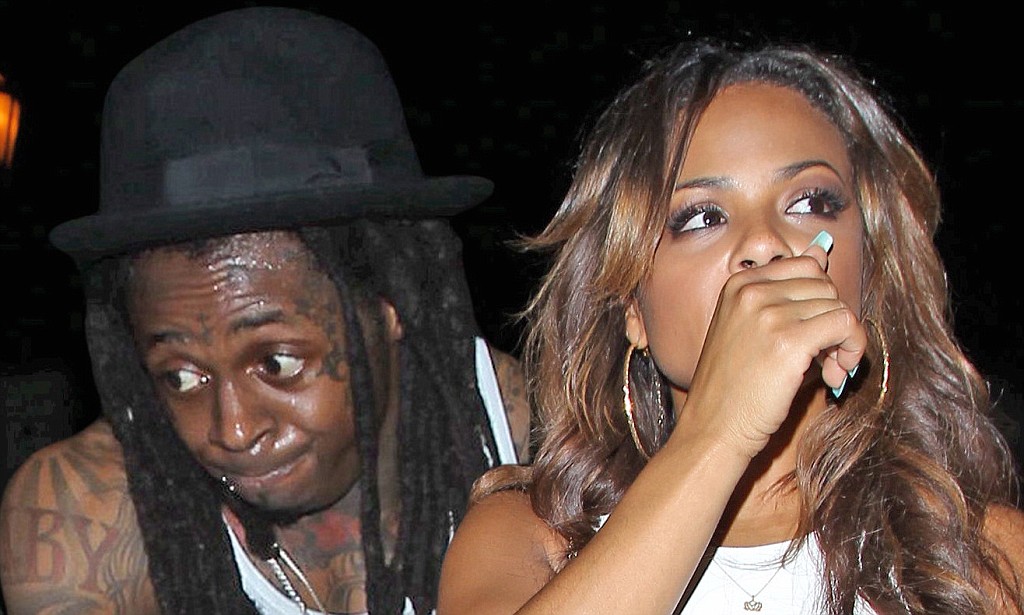 If Lil' Wayne and Christina Milian are really dating, would they
last much longer with all the people looking down on their "relationship"?
Lil' Wayne's exes are not feeling his rumored relationship with singer/actress Christina Milian. Back in July, the pair were spotted out on numerous occasions and rumored to be "hooking up." But, Christina has spoken out and said the two are just making music.
Yea, I bet they're making music alright! Lol.
When news broke that the pair were allegedly dating, Christina's ex-husband, producer The Dream spoke out about it in an interview with Vlad TV and said Christina "messed up the rotation" by

dating her ex-husband's ex-wife's child's father.
Woah, that's a lot to take in!
The other ex-wife of The Dream is singer Nivea, who also had a relationship with Lil' Wayne back in 2002 and has a child by him. Nivea then married The Dream in 2004 and has three kids by him.
Fast forward like five years, and in 2009 The Dream and Christina eloped in Las Vegas and they also have a daughter together.
Is this hard to follow so far? Because this triangle (well, that would be three people and this is four)... this sqaure of a mess (lol) is hard to follow even for me.
When The Dream said Christina "messed up the rotation," he also added:
"I think that's what everybody was thinking when the news broke. Everybody was thinking of that but supposedly Christina... s
he wasn't thinking of that at all. I have no idea how she could not be thinking of that."
So to get things straight here ... The Dream has kids with Nivea and kids with Christina. Lil' Wayne has a kid with Nivea and now Christina is allegedly dating him. I'm guessing Christina likes dating Nivea's leftovers... I dunno, but that's what it seems like.
Now adding to the list of people who disapprove of Lil' Wayne and Christina's supposed relationship is Wayne's ex-wife Toya Wright whom he also had a baby with back in the day in the '90s. Lil' Wayne and Toya later married in 2004 and got divorced two years later.
Toya recently had an interview with Vlad TV and like The Dream, she is not feeling Wayne's new rumored relationship with Christina.
"I think it's a hot mess," she told Vlad TV. "I think that is a hot mess, if you want my honest opinion. That's just too much."
Toya also said it's completely unreasonable for Wayne and Christina to think it's okay for them to date, considering Wayne has a child with Christina's ex-husband's ex-wife.
Toya sides with Nivea on her thoughts of disapproval and went on to say, "It's too many other women out there to date your son's mother's ex-husband's girl..."
All of this is so messy and is making me scratch my head, lol. This is some straight up soap opera drama ish!
Is someone going to ask Lauren London what they think of Wayne's newest "relationship." Remember, the actress is Wayne's baby's mother as well. SMH. There's a line of them! Wayne has definitely been around the block a couple, couple of times.
Above starting from the left is: Toya Wright, Lauren London and Nivea
Check out in the video below of what Toya Wright had to say about her ex-husband's relationship with Christina Milian. Toya also discusses being cool with Wayne's other exes - Nivea and Lauren.
Follow Ooooooo La La! on ...
Twitter || #OooLaLaBlog
Instagram || Pinterest || Facebook || Google +
Subscribe to My News Feed