Carmen Ortega and Jason Derulo pictured last year. Photo cred: Bossip
Last week, Jason Derulo admitted to Power 105.1 The Breakfast Club, that he broke up with Jordin Sparks over the phone!
He chose breaking up over the phone because he wasn't in town. Soooo... after three years, he didn't think that the least he could do was wait until he got back in town to have that adult conversation with Jordin face-to-face? Smh!
Since the breakup, Jason has been denying cheating rumors. In fact, he told The Breakfast Club their relationship just ran its course, saying "Every relationship has their ups and downs and you know, when you start having more downs than ups, you gotta take a look at your relationship and be like, 'Is this something that I'm supposed to be doing?'"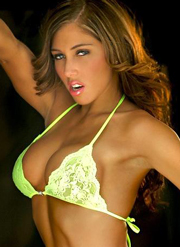 Carmen Ortega has also been linked to Reggie Bush while he was dating Kim Kardashian