TMZ just released audio of Nicki Minaj's 911 call from last month when it was reported the rap star and her assistant/boyfriend Safaree Samuels got into an altercation.
It was reported that Nicki was "accidently" hit in the lip with a suitcase.
Later on the story took to the web and stirred up a lot of buzz on Twitter.
Nicki denied the so-called altercation and even tweeted "The fact that u believe a man either slapped or punched me in the face & didn't leave on a stretcher w/his balls hangin off?

#

getaF

%cknLife"
Nicki Minaj News: Her Latest Altercation & What She Says About It
The guy on the phone who made the 911 call said Nicki Minaj and her crew were getting crazy and Nicki got hit in the face and she's screaming about it. He also said everybody was keeping under a low profile.
On the tape, a woman referred to as "Nicki Minaj" can be heard screaming, "Look what he did to my face!" and I also can hear a guy in the background talking about a suitcase.
As if this isn't enough, now everyone is talking about Nicki's boobage slipping out her bra during her Good Morning America performance earlier today when she was jumping around on stage singing.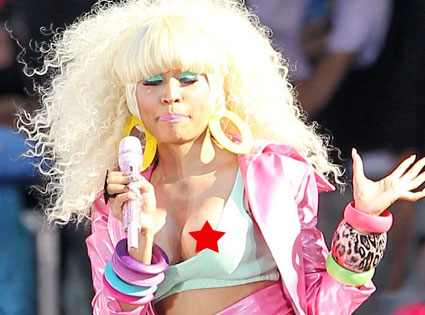 Whoops!
Minaj isn't the only one with slippage, Kelly Rowland's boobs also slipped out during a recent performance in New Jersey.
Being a good sport about it she tweeted, "New Jersey crowd was amazing!! hope you enjoyed the show and didnt mind the peekaboo LOL!!! #kanyeshrug #stuffhappens"