Video Music Awards: Highlights and Winners, Gaga is One of the Bro's, Chris Brown Kills It & Beyonce Surprise
O

pening this years Video Music Awards was Lady Gaga singing "You and I" and was it just me or did she confuse you too?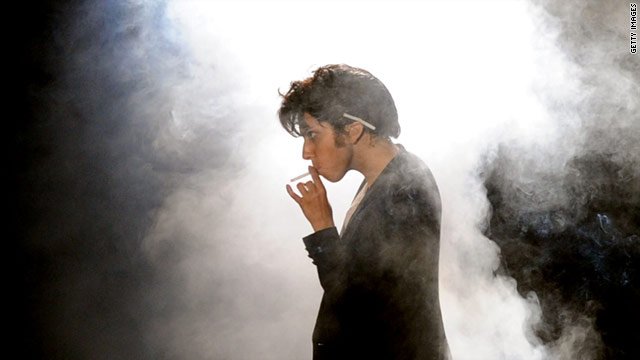 All photos taken from mtv.com
You never know what to expect with Gaga or what she is going to wear.
This year she came out dressed like a dude, no crazy outfits, no egg or meats, just an Elvis looking wig, a white t-shirt, black pants and a cigarette behind her ear which all seems very simple for Gaga.
She stuck with this look for the entire night. There were no wardrobe changes and no surprises as she made it clear that, "Gaga is not here" instead it was her alter ego.
"That started off weird, I didn't know what to think at first or where she was going with it, it got a little masculine," Kevin Hart joked after Gaga's performance.
Kevin Hart came out afterwards to get the show started and to state there was no host for this years
Video Music Award's. He made a couple of jokes in his opening act for the show...what he would say if he WAS the host for this years show:
"Lil' Wayne... stop skateboarding you're black, you're good at rapping stick to that!"
"Everybody in the audience might be itching don't worry it's just the cast of Jersey Shore, they're here, they gave it to everybody."
Did you see Kevin's skit backstage when he said Lady Gaga was hibernating and they showed a huge egg? Lol!
Other performances:
With no introduction "Otis" started playing and I got really excited. Jay-z and Kanye walking out and performing with all the fire blowing behind them hyped me up.
Ever since Jay-Z encountered that Lil' Mama interruption back in 2009 while perfoming "Empire State of Mind" with Alicia Keys, it seems like people feel like they can just walk up on stage during his performance.
A random person ran across stage but quickly got stopped and taken off by security. Odd.
Chris Brown absolutely killed it, showing off his dance moves and flying across the stage, this was one of my favorite performances of the night. He performed to a medley of his songs;
"Yeah 3X", "Protect Ya Neck", "Teen Spirit" and "Beautiful People."
Lady Gaga introduced the Britney Spears tribute. She called Britney one of her biggest inspirations and said, "She's a pop music legend and the industry would not be the same wothout her. I used to hang posters of her on my wall and touch myself while I was laying in bed."
Umm, ok Gaga lol.
Well, Britney won the "Michael Jackson Video Vanguard Award" and there was a tribute of her dance moves and looks from her many hit videos. The dancers created replica's, copying Britney's outfits from these videos as well.
Gaga was such a funny weirdo tonight. She gave Britney her award and I thought they were going to kiss and they came pretty close until Britney said, "I've done that already."
Britney and Gaga both introduced Beyonce who sung "Love On Top", one of my favorite's on her album '4'.
Beyonce made it very clear she was with child when she said in the beginning of her performance that she wants everyone to feel the love that is growing inside of her. At the end of her performance Beyonce dropped her mic, unbuttoned her jacket and rubbed her belly.
The camera cut to Kanye West bigging up Jay-Z in the audience who was smiling away as the crowd cheered. Aww how cute! Congrats to both of them.
Beyonce joins other diva mommy's; Alicia Keys and Maria Carey
Other performances included Pitbull and Neyo who lit up the stage with some Latin flavor singing "Give Me Everything."
The talented Adele performed "Someone Like You" and Bruno Mars paid tribute to Amy Winehouse singing her song "Valerie."
Singer Tony Bennett came on stage and shared a live recording he did with Amy Winehouse in Abbey Road Studios back in March before her passing.
Closing out the show was Lil' Wayne performing his new hit "How to Love" to start off. What would a Lil' Wayne performance be if he didn't take his shirt off? Well, that's what he did next while performing "If I Die Today" ending the show while smashing his guitar.
And I almost forgot ...Selena Gomez co-hosted the VMA's pre-show and after interviewing her boyfriend Justin Bieber, he gave her a kiss. Awww!
Overall, great show!
I think this was one of the best VMA's that I've seen in awhile and it definitely beat out last years show.
I also liked this years VMA's better than the BET Awards; there were better performances, it was more exciting and some big announcements.
Best Pop Video
Britney Spears "Til the World Ends"
Britney won the first award of the night which was given to her by her tour partner Nicki Minaj.
Best Hip Hop Video
Nicki Minaj "Super Bass"
During her acceptance speech Nicki called Lil' Wayne the best rapper alive.
Best Collaboration
Katy Perry feat. Kanye West "E.T."
Katy made a joke during her acceptance speech and said to him on stage, "Now this is the time you want to interrupt me Kanye."
Best Video With a Message
Lady Gaga "Born This Way" won this brand new category added to the VMA's.
"
Mother Monster gives birth to a world free from prejudice, judgment and self-doubt" - taken from mtv.com
Sooo...none of the other video's outside of this category have a message in the video? I think this is a dumb category.
Best Male Video
Justin Bieber "U Smile"
Best New Artist
Tyler. The Creator (I'm not really up on this dude so I don't know who he is)
Best Female Video
Lady Gaga "Born This Way"
Video of the Year
Katy Perry "Firework"
Click HERE to see the full list of VMA winners.
What did you think of tonight's award show? Who was your favorite performance?