Last week on part one of the Bad Girls Club reunion, Nastasia was ready to fight Tasha. This week on the second part, Nastasia starts taking off her boots and is ready to charge Tasha, but Tasha didn't want any and she sat down as the crowd said "boooo!"
Host Perez Hilton then says, "Tasha and Priscilla it seems to me Nastasia kinds of runs you guys."
"She needs to run a treadmill that's what she needs to f*cking run," Priscilla said.
Perez asks Priscilla if she was to stay to the end and it was Nastasia who attacked her, would she have taken Nastasia. Priscilla answered of course and said the bigger they are the harder they fall down. Nastasia chuckled at her comment and said Priscilla is all talk.
Priscilla then said she called Nastasia out on her last day and Nastasia didn't do anything about it. Priscilla stood up and talked her crap and I noticed one thing, Nastasia didn't stand back up and didn't have much to say then.
Tasha goes on to say she is a classy girl as Perez tells Tiara she stole Tasha's guy. Tiara cleared the air and said she didn't have to ask Tasha permission for anything and let Tasha know how the fight started between them, because Tasha came to Tiara's room and started with her.
Bad Girls Club Reunion (Part 1) Recap
Perez brings up Shelly's girlfriend and shows a clip of Tasha and Priscilla talking crap in the confessional of how Shelly constantly talked about her girlfriend on the show.
Perez calls Tasha and Priscilla out on their made up word "fagetti" which he says derives from the word faggot and Perez was not happy about it.
Tasha said she'll stand up for what she believes in and said she is a Christian and says it isn't right to be gay. Tasha said she has gay friends and her friends know she finds their "gayness" offensive.
Perez takes offense and tells Tasha he couldn't be friends with somebody who thinks him being gay is a choice and says he was born a big gay.
"God made me this way. Like Lady Gaga said, I was born this way, just like how you were born without class," Perez said to Tasha.
Next...Perez calls Cheyenne out on being a little boring on the show and talks about Cheyenne's comment about going to "black/hood/ghetto clubs" as she called them.
Cheyenne said she isn't racist and that her comment wasn't about black people. Nastasia tells Cheyenne, why couldn't she just say "more diverse."
Angie said Cheyenne was commiting social suicide. Cheynne says she's a hippie and the comment shouldn't have came out like that, but she loves everyone. Shelly clears up any rumors there may be and lets it be known that she did not have a crush on Cheyenne.
Perez tells Angie that she may be small but she can pack a punch. Then he talks about Angie switching cliques. Things get heated when Angie puts Priscilla on blast for supposedly making up lies about her and being jealous.
"I don't need Angie's name in my mouth she's nothing to me," Priscilla said.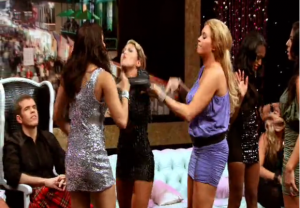 Before you know it they both stand up, Shelly tries to break things up, Priscilla pushes Angie and Angie gets her punches in on Priscilla. Priscilla pulled Angie's hair and kicked her but I say Angie won that fight.
After security breaks them up, Angie says she knows where Priscilla lives.
So, it's safe to say these two aren't friends anymore.
Perez said the majority of the ladies in the house didn't have any game this season. Perez said Angie and Tasha are pretty girls but didn't get any action. Tasha goes on to say she is too classy to bring trashy guys home. But Judi was not shy at all when it came to having sex on camera, she didn't even know one of the guys name.
"I'm 100 percent myself on camera and off camera, everything I did I would have done in real life. It was me, it wasn't acting, it wasn't fake, it was me" Judi said.
Although Judi loves sex she says she wouldn't do a sexy tape.
Shelly thinks Judi is dirty based on the guys Judi brought home and she thinks Judi doesn't have respect for herself. Then Priscilla and Tasha chime in on the "gang up on Judi" action and it's back to three versus one.
"What are you so worried about with what I do with my vagina," Judi said to Shelly, Priscilla and Tasha.
Perez says he still wants to see Judi's vagina and she shows him a peak. Judi is a hot mess!
This season, one of the best fights in the house went to Priscilla and Judi after Judi served Priscilla breakfast in bed. Priscilla said Judi did her a favor because she couldn't stand living in the dirty house anymore.
Tasha talks about how she tried to jump in on the fight and told Judi she has the right to f*ck her up because Priscilla is her girl.
Tasha really didn't have to jump in, Priscilla clearly handled Judi by herself. Perez dubbed this fight as the biggest fight in bad girls history.
Towards the end of the show, Perez showed off Nastasia's video in which she bashes, Priscilla, Shelly and Tasha. Nastasia said they talked crap on Twitter and she came on the show for an opportunity, so she put her anger to good use and made a song.
So what are the girls doing now that the show is over?
Priscilla and Tasha are trying to start a clothing line, Cheyenne is picking up jobs as she is making jewelry and clothes, Tiara is coming out with a "Buji by Tiara," a lipstick and lipgloss collection, Shelly works at a gay bar and she does charity work, Judi will be starring on Love Games 3 and says she is all booked up, Angie says she is loving and living life and making money but doesn't reveal much and Nastasia is writing a book, a fictional biography and working on her music.
This season is a wrap but we have Love Games 3 to look forward to which premieres Dec. 10th at 10 p.m. and the season 8 trailer for Bad Girls Club is below, it looks so good!
Check back next Monday for my blog post on who I think will make a great BGC all-star cast as I pick out the seven baddest girls, one from each season.
Love Games 3 Trailer and Spoilers
Season 8 Pics, One Bad Girl Gets a Spin Off Show & Natalie Nunn in Wale's Music Video