Note - Guy code rule in the Jersey Shore house: after smushing a random girl from the club, call her a cab late that night or very early the next morning at the latest so she can't hang around after sex.
This week on Jersey Shore:
the roomies try to adjust to life without Vinny in the house. Pauly couldn't work his magic in last weeks episode to make him stay and Vinny up and bounced while the others were out at a club.
Pauly watches Vinny leave from the balcony, aww. He then joins the rest of the gang at the club to tell them the news...Vinny left the house.
Snooki takes the news hard. Jionni notices and asked her if she loves Vinny. She said she loves him as a roommate and a friend.
Hmm mmm.
"He was like my soul...he was my rock, I love Vinny" a drunken Deena says as the waterworks start streaming out of her eyes.
Mike isn't too worried about Vinny leaving, he's busy. Mike says he is like a shopper at a store and he picks out chicks at the club.
Pauly brings back a girl to smush and says he did it for his man Vinny.
He does the same thing later on. He finds a chick who is Vinny's type, brings her back to the house and smushes her in Vinny's bed. This is all in honor of Vinny, Pauly claims. And, he tells Vinny on the phone later, that he made the girl call him 'Vinny' in bed. Lol, Pauly is nuts.
The cameras continue to show Vinny as he moves back home to see his family.
"I had to come home. I had a lot of anxiety over there. I had to deal with it over here you know...it wasn't the right environment for me to be in...to deal with that. It was too much," Vinny told his mother.
Mike and Pauly are both celebrating their birthdays on this weeks episode. Snooki says lets celebrate for Vinny today.
As Jionni is leaving, Snooki tells him, "I won't cheat on you."
What a relationship. **shaking my head**
Snooki and Deena decide to have a "Meatball Day" and we all know what that means...time for them to get wasted! The falling down starts, Snooki can't even walk home and her a** is all out.
"I really hope she doesn't get freakin' arrested again...you know it's bad when I'm the sober one," Deena said.
But do they stop? Nope. It's on to the next club, more drinking and fist-pumping for 'Team Meatballs.'
"...There's no really coming back from this one...we might as well keep going," Deena said.
Deena danced her a** off so much that when she got home, her hair is in knots like a beehive nest.
"Guidette problems!" Vinny said.
The crew heads out to party again and this time Mike's friend, The Unit is there. Snooki senses Mike and The Unit teaming up on her and she distances herself and Jionni away from them.
The Unit and Mike make their move to bother Snooki but right before they can do that a huge fight breaks out in the club. Snooki makes her escape and leaves with Jionni.
"Nicole is definitely not off the hook, the summer just started," Mike said.
Later on, Ronnie calls Vinny to check on him. Vinny tells the roomies that he's doing much better at home and he apologizes for not saying bye.
"I mean even though I have a boyfriend, I'll always have that special place in my heart for Vinny and the fact that he's not here... who am I gonna flirt with?" Snooki said.
Snooki tells Jwoww that Vinny is not coming back anytime soon. So maybe Vinny will be back later on in the season.
Mike and Paula
Mike runs into Paula, his main chick as he calls her, and when he see's Paula he disses another chick that was talking to him earlier at the club. So the dissed girl goes and starts talking to Pauly.
"It's my 31st birthday, I need to get laid," Pauly said.
Mike brings Paula back home and Pauly brings the dissed chick back home and she starts just standing around in the kitchen.
Pauly gives her an ultimatum and says, "You can come to bed or I'll call you a cab, it's up to you."
Pauly and the dissed girl
She asked Pauly if they can just talk in the room and Pauly calls the cab, hahahaaa!
"I have no time to talk to anybody at four in the morning. It should be against the law to come into my house at four in the morning on my birthday and not give me birthday sex," Pauly said.
That girl was too nice for the Shore house.
After Pauly calls her the cab, she leaves the house but later on she knocks on the door and comes back! And she told Pauly she doesn't want to go home yet.
"I want to hang out with Mike then if you're going to go to bed," she told Pauly.
It's either you smash or Pauly will pass! Lol.
The girl talks to Mike and asked if Paula is in the house. Mike told her yes, Paula is in the shower. Mike said he likes to keep his options open but he's not going to leave Paula.
"...she's like triple A, you call her she's there," he said about Paula.
So the dissed girl gets dissed again and leaves the house... again!
"I'm being honest, there is definitely a little room for Paula in this crazy heart of mine. The Sitch could get wifed up, you never know. I'm not gonna lie I actually would love a girlfriend," Mike said.
Aww!
The next morning, Pauly's family surprises him at the Shore house for his birthday. His mother brings Pauly the best birthday present, his barber from back home. Pauly takes his haircuts seriously!
"I'm back to being F.T.D, fresh to death. I'm the freshest person in Seaside right now," Pauly said.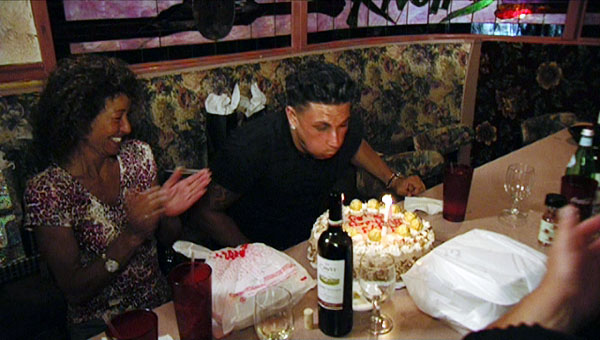 The roomies and Pauly's friends and family all go out to dinner later on. Mike see's Pauly smiling and he gets a little agitated.
Mike wishes his friends and family came to the house for his birthday. He dips off in the restaurant and goes to himself, later on falling asleep in the restaurant.
Everyone hears Mike snoring and Ronnie pranks him, putting cake icing on his face.
The girls start to plan a big surprise party for Pauly and Mike and they make a cake. Sammi puts the icing on and only puts Pauly's name on the cake, which further pisses off Mike when he see's it.
"...That's what you get for being a f*ckin' douchebag," Snooki said.
At least you got the birthday sex Mike. Pauly didn't. Lol.
Mike starts taking the fact that he's considered the villain in the house and it hurts him. He thinks his roommates don't care. Mike said he's an emotional dude and he's tired of always being seen as the bad guy.
"Ever since Italy Mike has been like crazy weird..." Pauly said.
At the end of the episode, Mike dips out of the house and Snooki said, "and we're down to six...dropping like flies."
Is Mike the next one to leave the Shore house?