So Brian McKnight has made himself relevant again in the music industry with his "If You're Ready to Learn" song a.k.a "the pu**y song" which is now available on iTunes.
The song even earned Brian an invitation to perform the raunchy song at the porn awards and he became a trending topic on Twitter right after the song was released on YouTube. He called that song a parody.
Well, Brian recently released another adult-type song for adult website, YouPorn.com in which he sings "head on over to You Porn dot com..." His music lately has been questioning the state of R&B music and Brian has been defending his latest music choices to fans and critics.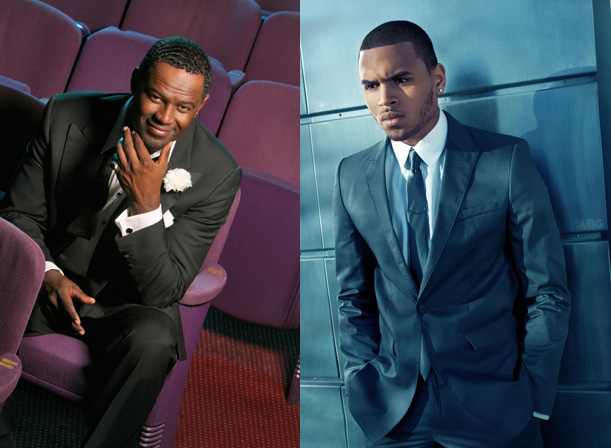 Brian also may be feeling a little salty that he hasn't been getting a lot of attention lately as certain other R&B artist...like Chris Brown.
While defending his adult-like music, Brian tweeted:
"Since everyone's so opinionated I'm taking suggestions on what I should do next I'm thinking rent a lambo and beat the s--- outta my girl..." .... "That's acceptable these days."
What he tweeted is similar to the 2009 Chris Brown and Rihanna domestic violence incident. Although Brian didn't name drop, Chris Brown took his tweet personally and responded back:
"I see how this works now... When peoples careers get to the "nobody cares" stage they use my name for publicity! Lol. I can't keep helping these old ni----s. Its miracle the way I'm bringing the dead alive! I would've gladly wrote you something that would make u look less irrelevant! Listening to "let me show u how ur P works"!!!! THAT S--- IS TRASH! If u need help just ask!"
Well that was a direct stab at the soon-to-be 43-year-old whose birthday is tomorrow.
*** Brian, do not be like another Lil' Kim! A veteran artist making a comeback, but doing it the wrong way by using a current, hot artist to beef with. Just make some good hits like "Back At One." Geez.