Rihanna Hugs and Kisses Chris Brown, Posts Photo on Instagram, Sparks Relationship Rumors Again (PHOTOS)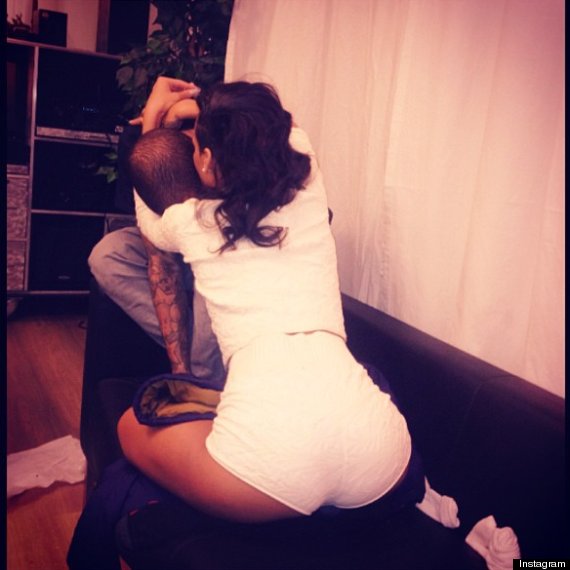 Rihanna hugs her baby, Chris Brown.
Chris Brown said him and Rihanna are working on their "friendship" when he broke off his relationship with his now ex-girlfriend Karrueche Tran back in October, and indeed him and Rihanna are working on something.
Rihanna posted a photo of her kissing Brown's head on Instagram Thursday night, her body wrapped around his.
"I don't wanna leave!!! Killed it tonight baby!!!" she wrote along with posting the photo.
Rihanna is referring to Chris' Thursday concert in Frankfurt, Germany. The two have been spending a lot of time together lately. They both recently celebrated Thanksgiving in Berlin and were spotted partying together in a German nightclub.
Rihanna also recently tweeted a shirtless photo of Chris (seen below) to all of her Twitter followers. In the photo, Chris is knocked out, supposedly on Rihanna's bed in her hotel room.
"Dis n***a....... #BartObsessed," Rihanna wrote along with the picture she posted.
Maybe Chris and Rihanna are putting on a show to further entertain people as Chris has stated on his Twitter - when he did have Twitter. The star got into a bit of a Twitter feud with comedy writer Jenny Johnson and has since deleted his Twitter account.
He sent out a series of tweets like "... just felt like entertaining the ignorance..." and "further proved my point of how immature society is..."
Whatever the reason is (maybe to make Karrueche jealous?) these two are just not giving an eff what anyone thinks and they're posting whatever they feel like it and spending time together in the spotlight again.