Kelly Clarkson's Inauguration Performance & So What If Beyonce Lip-Synced "The Star-Spangled Banner"
Post performance, Kelly Clarkson - who sang "My Country 'Tis of Thee" during President Obama's inauguration - tweeted a photo of her and Beyonce, who sang the national anthem. Check out the photo after the jump: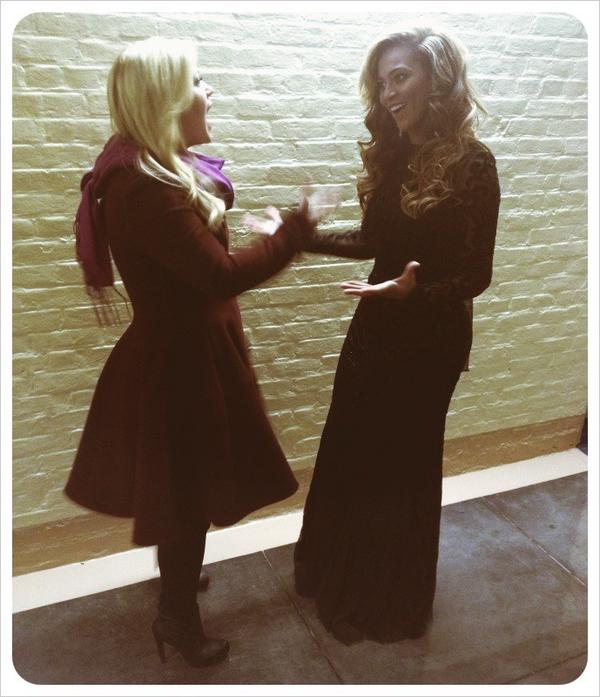 Kelly Clarkson

✔

@kelly_clarkson
"Me and B just hangin' out ....don't worry about it. Seriously, God did good. She is so beautiful!
pic.twitter.com/zoo1OaA8
"

Now, people are talking about how Beyonce reportedly lip-synced to a pre-recorded track while Kelly sang her song live yesterday.
RELATED POST: Watch President Obama's 2nd Inauguration Speech
According to TMZ, A spokesperson for the U.S. Marine Corp Band - which provides the music for the Inauguration - told them, Beyonce mouthed the words to a pre-recorded studio version of "The Star-Spangled Banner."

TMZ reports:
The rep said it's standard procedure to record a backing track before a live performance such as this -- you know, just in case -- and Bey decided at the last minute to rely on the studio version instead of winging it in person.

The rep added, "We all know Beyonce can sing ... We don't know why she chose to use the pre-recorded track."
Does it matter if Beyonce lip-synched or not?
Hey, sometimes when we're at work, we don't feel like doing our job. So, maybe Beyonce didn't feel like working yesterday! Lol. I still love her.
Check out Beyonce's performance HERE and watch Kelly Clarkson sing "My Country 'Tis of Thee" below:
Okay no lie. Kelly Clarkson sounds better than Beyonce, just saying.