Amanda's new pierced cheek look
,
check out her changes below
So I posted a picture awhile ago on my blog's Facebook page back in January of former Nickelodeon star Amanda Bynes and her very new look for which she's been making recent headlines about. Now she's getting attention for her vulgar tweet.
Now, the very different looking former kid star tweeted last night about wanting to be

sexually

involved with Young Money rapper Drake.
WTH!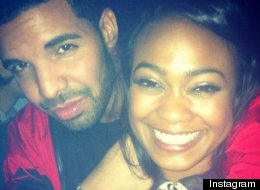 Bynes has called Jay-Z "ugly face" just a couple of months ago on

T

witter, but not you Drake, obviously she is saying you can get it.
Drake h

as yet to respond. I wonder what he's going to say.
I do know one thing. I'm sure actr

ess Tat

yana Ali ,who just celebrated her 34th birthday with Drake, wouldn't be too happy with Amanda throwing

around her Drake sex fantasies.
Tat

yana

supposedly has a crush on Drake. Check out the video clip below of the actress gushing about the rapper on the

The Wendy Williams Show.
What's up with the chicks going a

fter Drake!?