Ray J Returns to Reality TV, Will Host "Bad Girls All Star Battle," Cast Rumors & My Bad Girl Picks!


Ray J to Host Bad Girls Club Spin-off Show!
Singer Ray J has partnered with Oxygen in a new spinoff of their hit show Bad Girls Club. According to Oxygen, Ray J will host Bad Girls All Star Battle, (more about the show below) a new reality game show competition that will include 14 of the "baddest girls" from BGC. The cast hasn't officially been announced by the network, but there are rumors of who got picked

, k

eep reading belo

w.
Read below for the rumored cast and for my 14 picks!
Who do you want to see?
Ray J was on two reality shows prior to this,
For
The Love of Ray J and Brandy & Ray J: A Family Business on VH1. He is tweeting up a storm about working with VH1 now and showing pictures of himself on the set of the show.
Ray J on set of Bad Girls All Star Battle
In 2011, I wrote a blog post about my picks for a Bad Girls Club all-star season (this was up till season 7). Read that original post here

:
Picks for a Bad Girls Club All-Star Season
and feel free to add in your picks in the comments section from all season

s!
About
Bad Girls All Star Battle
"

Bad Girls All-Star Battle is set to star 14 past "Bad" Girls under one roof competing for $100,000 and the title of "Baddest Bad Girl of All Time." This competition will have the girls divided into two teams and they will be put to the test every week in an endless array of physical and mental challenges.
Each week, these ladies will go head-to-head in an individual competition where the winner earns control over the teams and protection from elimination, also called the "Captain's Challenge." There will also be a team challenge, where the "Bad" Girls will test their ability to work together. The losing team will nominate two players to go up for elimination, while the winners of the team challenge will get immunity, a night out at the club and will get to decide which player to boot.

"
The bad girls will be competing for $100,000 prize and title of "Baddest Bad Girl of All Time."

Bad Girls All Star Battle is taping in Miami and is due to premiere this Summer on Oxygen.
The Victor Twins are rumored to be on the show
The rumored cast is:
Amber Meade
(Season 3)
Natalie Nunn
(Season 4)
Flo Kaja
(Season 4)
Judi Jai
(Season 7)
Priscilla Mennella
(Season 7)
The Victor Twins
- Gabi and Dani (Season 8)
Mehgan James
(Season 9)
Erika Jordan
(Season 9)
Julie Ofcharksy
(Season 9)
ShanRock

-

Shannon Sarich and Raquel Santiago (Season 10)
Bad Girls Club Season 11
Th

e

BGC spin-off would air

around the same time as the

11th season

which is in the works.

This is also supposedly set for a summer premiere but I'm thinking would be shown in the fall after the sp

in-off.
The only confirmed cast member for this season is 22-year-old, Milyn "Mimi" Jensen, who is known for an alleged relationship with pop singer, Justin Bieber.
*******************************************************
Which 14 girls do you want to see on the all

-

star battle show?
My 14 picks are listed below:
1) Tanisha

(

Season 2

) C

'mon, you have to have the Queen Bad Girl a.k.a Ms. "Pop Off"

as

a part of

the show

to stir up trouble. This is the mother hen of B

GC

!
One of my picks: Tanisha Thomas from season 2
2) Flo

(s

eason 4) One of my personal favorite Bad Girls of all time and one of the toughest. Flo does not take any BS from anyone! She is on the rumor list

too.

One of my picks: Flo from season 4

3) Natalie (Season 4) You have to have Miss "I Run L.A." be a part of the sh

ow. Besides,

her and Flo togeth

er again

will definitely be entertaining

.
4) Nastasia

(

Season 7) Oh, Nastasia

!

She was a beast on her season. D

o not mess with her contacts, or you'll get the Shelly beat down!
5

) Judi

(

Season 7) The crazy voodoo chick will most likely be back up to her slick pranks. But, if she's in the house with Priscilla, she better watch out! And,

hide the cereal!
6

) Priscilla

(s

eason 7) Priscilla was a Spanish spitfire on her season. She got sent home early after teaching Judi not to throw breakfast on her in bed

. Don't wake

Priscilla up out of her beauty sleep.
One of my picks: Priscilla from season 7
7) Wilmarie

(s

eason 6) One of the baddest replacements in BGC history. Plus, I want to see her battle it out with Nikki again! Remember there ongoing bee

f?
8) Nikki

(s

eason 6) Nikki was all about games on her season, these ga

mes

would be perfect for her. And, she's from Jersey

, w

hoop whoop!
9) Me

hg

an

(s

eason 9) Meghan is no joke, good luck to anyone getting on her bad side.

Remember, s

he comes prepared to fight!
10) Valentina

(from the current s

eason

10

) I don't think Valentina is that bad, but she's loud

,

physcho, and isn't afraid to get in anyone's face to yell

and jump up and down, lol.

I want to see how she would interact with these group of girls.
11) Shannon (from the current season 10

)

Shannon just looks beastly and seems like she would kick a** in this game.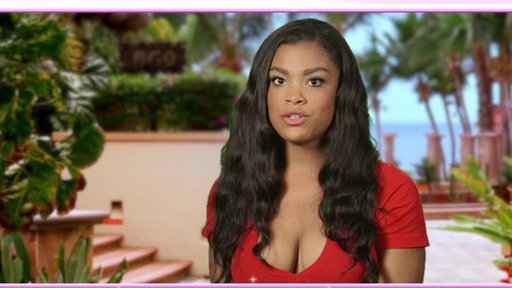 One of my picks: Mehgan from season 9
12) Christina (season 9) Yesss, my favorite Jersey chick on BGC. Christina is a tad bit pyscho and isn't afraid to throw dow

n

. Good

luck getting on her bad side.
13) Char (season 6)

Char

got on my nerves during her season, but it would be funnny to see her try to run this spin-off and clash with other major

personalities.
14) Camilla (season 8) Camilla is a hot-tempered mess and I like her! She was one of my favorite replacements and very entertaining on Love Games.
**** I wanted to list The Victor Twins (Gabi and Dani) as part of my list. But they take up two spots and you can't have one twin without the other. Together, they would plot against everyone else. But, there are just so many other bad girls that I rather see on the show. I also thought about Kayla from season 3
and Darlen from season 2.
Which 14 girls are your picks for the Bad Girls All Star Battle spin-off game show?
***************************************************
I have received your emails asking why I don't cover

BGC

on my blog anymore

.

I would love to

, but

t

he Bad Girls Club sh

ow

moved from Mondays to Tuesday

nights

and unfortunately I am unable to provide full show recaps of this season (as I did with the previous seasons) due to my demanding work schedule now.
Keep checking back for updates on the two new BGC seasons

!