The 2012 Billboard Music Awards kicked off this year in Las Vegas starting off with a high energetic performance from LMFAO.
Singing their club hit songs "Party Rock Anthem," "Sorry for the Party Rocking," and "Sexy and I Know It," LMFAO wiggled in their boxers and also had a dancing zebra on stage.
And, if you watch America's Best Dance Crew then you might have recognized season 3 winners Quest Crew who were also throwing out some of their crazy dance moves along with LMFAO.
2011 Billboard Music Awards Highlights
***Red carpet looks and the winners list are below
Ty Burell and Julie Bowen from
Modern Family
were the evenings hosts and I have no idea who these two are, lol.
Lisa Marie Presley came out to present Katy Perry with the 'Spotlight Award.' Katy had
five number one hits on her last record Teenage Dream that made the Hot 100 and she is the first woman to achieve that. She's now tied with Michael Jackson who is the only other person to receive the award in that category. Katy called her past songs, her diary of the past two years.
Katy gave a shout-out to her 91-year-old grandmother who was sitting in the audience and called her 'the real rock star' and said:
"... I can't wait and go do shots with you after this."
Standing in a beautiful red gown, Kelly Clarkson performed "Dark Side," her newest single that she premiered. I'm really feeling this song:
Everybody's got a dark side
Do you love me?
Can you love mine?
Nobody's a picture perfect
But we're worth it
You know that we're worth it
Will you love me?
Even with my dark side?
Kelly Clarkson will also perform alongside Gladys Knight on the
Dancing With the Stars
finale. Check out her new song below:
Boy band, The Wanted who are known as "the England sensation" got all the young girls pumped up when they sung their hits "Chasing the Sun" and "Glad You Came."
Are these guys like the next 'N Sync or Backstreet Boys?
Wiz Khalifa won the 'New Artist' award and during his acceptance speech he shouted out Amber Rose, who was also in attendance, "... My beautiful fiance, she's my world and she puts up with my crazy but too..."
Brandy introduced Chris Brown and called him, "one of the consistent hit makers in music today." Chris had a skateboarding theme going on behind his performance and he danced his butt off, as usual, to his club hit "Turn Up the Music." Watch below:
Pop star Natasha Bedingfield came out and paid tribute to Donna Summer who passed away last Thursday after a long battle of cancer at the age of 63.
Natasha said, "...a remarkable woman who brought so much light to so many and inspired many women, including myself, through her music and if we can remember her through her music then this really won't be the last dance...," then she sung Donna's hit disco song "Last Dance."
I don't know if it was because the awards show was limited on time because of all the acceptance speeches that kept going over time, but Natasha's tribute performance was cut off!
And what a show Usher put on when he performed his newest hit "Scream."
Magic, smoke and dancing filled the stage in his opera-like performance, watch below:
Katy Perry debuted her new song in a dreamy performance of "Wide Awake," a slower paced song compared to "Part of Me."
Katy floated above the stage on top of a white ribbon.
She called this song, the most personal, most intimate song and said it was written for a film that she has coming out during the 4th of July weekend.
Whoopi Goldberg, Jordin Sparks and John Legend honored Whitney Houston. John Legend sung beautifully to Whitney's "Greatest Love of All" and Jordin blew me away as she sung "I Will Always Love You."
A tearful Bobbi Kristina looked on from the audience and then she received the 'Millennium Award' on Whitney's behalf., along with Pat Houston, Whitney's sister-in-law.
"...I'm just blessed to have been in such an incredible woman's life, there will never be another one ever...,"
Bobbi-Kristina said, keeping the acceptance speech short and sweet.
Cee Lo Green and the Goodie Mob performed their song "Fight to Win" and the Beastie Boys song "Fight for Your Right" in tribute to the late MC Adam Yauch who died on May 4th at the age of 47.
Closing out the awards was the beautiful Alicia Keys who sang "Higher Ground" alongside the legendary Stevie Wonder.
Stevie received this years Billboard '
Icon Award.' Alicia thanked Stevie for inspiring her to play the piano.
Stevie told everyone it was his birthday last week and he asked Alicia to sing her song "Empire State of Mind" as a birthday gift, and she sung it a capella.
Stevie also sang his other hits "Overjoyed" and "Superstition."
Other performances of the night included; Justin Bieber, Nelly Furtado, Linkin Park, Carrie Underwood and Carly Rae Jepsen.
Even though she wasn't present, Adele topped the winner list with 12 wins. LMFAO followed right behind her with six wins.
And the best performance of the night, in my opinion, was Usher! I also must say, the awards
vibe was a little different with no appearances from Rihanna, Adele, Beyonce or Lady Gaga.
All in all, it was a good, loooong show. But, I like last years better.
Winners List (listed in order, the winners are in bold)
Top Social Artist
Justin Bieber
Spotlight Award
Katy Perry
New Artist
Wiz Khalifa
Woman of the Year
Taylor Smith
Song of the Year
Adele "Rolling in the Deep"
LMFAO ft. Lauren Bennet and GoonRock "Party Rock Anthem"
Katy Perry ft. Kanye West "E.T."
Maroon 5 ft. Christina Aguilera "Moves Like Jagger"
Pitbull ft. Neyo "Give Me Everything"
Top Duo or Group
LMFAO
Male Artist of the Year
Lil' Wayne
R&B Artist
Chris Brown
***The winner list above are the nominees and winners that were televised.
For the full list of winners, click HERE.
Check out some of the celeb red carpet looks below:
Katy Perry
Brandy
Alicia Keys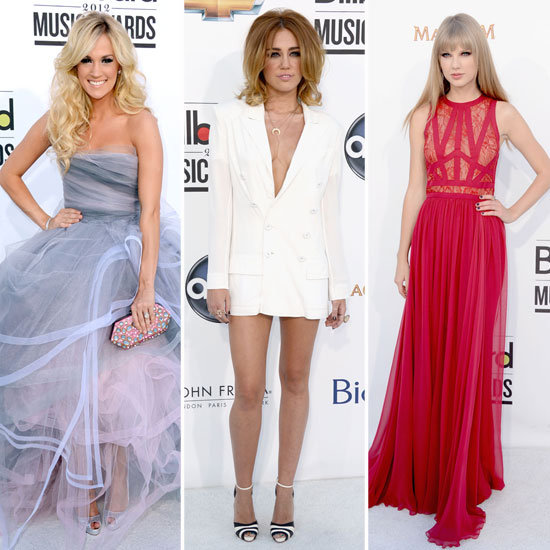 Carrie Underwood, Miley Cyrus and Taylor Swift