Billboard Music Awards Highlights & Videos: Justin Bieber Booed, Miguel Has an Epic Fail, Nicki Minaj's Booty Shake and More!
The 2013 Billboard Music Awards premiered live last night at the MGM Grand Garden Arena in Las Vegas. I must admit, I wasn't that impressed with the performances, and I was actually bored throughout the show.
My favorite performance of the night was Bruno Mars', who opened the show and performed his song "Treasure." Check out his performance and others below:

Bruno Mars performs "Treasure"
Quick highlights:
No there was no Beyonce, Adele, Lady Gaga or Rihanna at last night's award show. But, there were some pretty interesting moments to fill in the dry performances...
Justin Bieber got booed while accepting the fan-voted Milestone Award. I kinda felt bad for the kid. Justin said:
"I'm 19 years old, I think I'm doing a pretty good job and basically, from my heart, I really wanna say it should really be about the music," he said.
"It should be about the craft, the craft that I'm making."
Woah Madonna!
She wins "Top Touring Artist"
He added, "This is not a gimmick. I'm an artist and I should be taken seriously and all this other bull should not be spoken of..."
Also during the night, Nicki Minaj gave Lil' Wayne a lap dance and shook her booty throughout their performance of "High school."
Kid Rock took the stage to present the award for "Top Rap Song of the year," and made this comment: "Let's give it up for people lip-synching under pre-recorded music." I'm not sure who he was talking about.
But you know who should have lip-synched? Chris Brown!
Chris performed his hit "Fine China" last night. The dancing was on point, reminiscent of Michael Jackson, but his vocals were horrible! He definitely needed some tea and lemon, it was that bad. He screeched throughout his performance!
Jennifer Lopez rocked out her dance moves, wearing thigh-high leather red boots as she performed "Live It Up" with Pitbull. Eh, I'm not feeling this song. I miss the old JLo songs. But, her body did look amazing last night!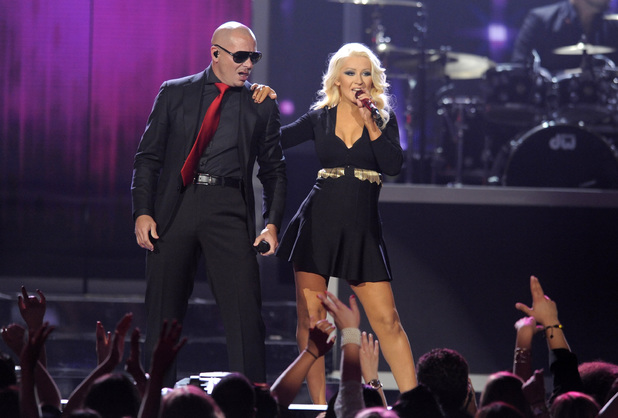 Christina Aguilera performs with Pitbull and shows off her slimmed down figure
And let's not forget the highlight of the night... Miguel, who thought he could fly from stage to stage and then he winded up kicking and landing on some fans in the audience as he continued to sing "Adorn."
I heard last night that the fan was okay backstage with Miguel and with an ice pack.
Miguel tweeted out:
"got caught up in the moment, thank goodness Khyati is okay."

Miguel flying over the audience
Miguel had an epic fail when that leg drop happened.
Check out that video and more below as well as the full winners list!
Winners List:
Carly Rae Jepsen
, Call Me Maybe
Macklemore
& Ryan Lewis, Thrift Shop
TOP TOURING ARTIST
Taylor Swift, Red
Gotye featuring Kimbra, Somebody That I Used to Know
TOP FEMALE ARTIST
TOP SOCIAL ARTIST
Rihanna
TOP COUNTRY ARTIST
TOP ROCK ARTIST
Rihanna, Unapologetic
Nicki Minaj, Pink Friday:Roman Reloaded
Taylor Swift, Red
Mumford & Sons, Babel
Jenni Rivera, La Misma Gran Senora
Madonna, MDNA
Gotye feat. Kimbra, Somebody That I Used To Know
TOP STREAMING SONG (AUDIO)
Gotye feat. Kimbra, Somebody That I Used To Know
TOP STREAMING SONG (VIDEO)
Psy, Gangnam Style
Carly Rae Jepsen, Call Me Maybe
Rihanna, Diamonds
Taylor Swift, We Are Never Getting Back Together
Gotye feat. Kimbra, Somebody That I Used To Know
Baauer, Harlem Shake
Baauer, Harlem Shake
BILLBOARD ARTIST OF THE YEAR
Performance Videos:
Bruno Mars
Chris Brown
Justin Bieber
Pitbull and Christina Aguilera
Miguel
Jennifer Lopez
Nicki Minaj and Lil' Wayne